Well yesterday I officially resigned from my current job to start a new one in two weeks. I will be taking a step up the cheffing ladder to a chef de partie position. New work place is a lot closer to home (10 minutes away) and will save a lot of travel time and I will generally be home by 930pm, YIPPEEE!
On to other news.
Made a gorgeous GF Byzantine chain bracelet as an order for Rosalind at work. This is the same as Mum's that I made for Christmas and forgot to take a photo of.....so here is the photo(still can't take a good photo of jewellery LOL)......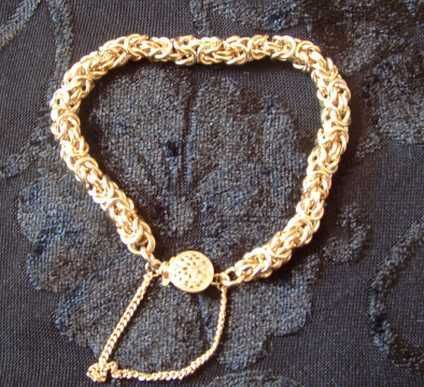 Work has started on the front of our house with cracks in the mortar being refilled and the corbel being straightened out. We will also be having some pretty lace work put on and some steel bars(brick stitching) placed in the wall to help it not to crack anymore. Will take some photos of the work as it goes along.
Well that is it for today catch you soon!! Ciao!!