Had a quick trip up to my Nan's to visit her and Dad and to drop birthday presents for Mum and my Aunt. Stopped in at the fabulous LAKES FOLLY Vineyard for a taste and to pick up our box of vino. We had a bottle of the Cabernets with dinner last night and it was fantastic!!!
Ended up making a bracelet for my Aunt and put the pendant with the bracelet for my Mum as they matched really well. So made my Aunt a Euro 4 in 1 three row bracelet in Sterling and Gold Fill with a Bali toggle. Here it is:
Had coffee with Nan and Aunty Pam and heard all about Aunty Pam and Uncle Hunter's trip to Vietnam. Then went to Sue's for a few hours chatted, got to see some of the pottery pieces she is working on. Teapots of all different shapes a fanastic looking boat, a violin and some helms inspired by ancient warriors complete with "damage" from weapons. These were all in the drying stages and I can't wait to see them fired.
Also got to meet her Pugs, Don and Mrs Bourke. They were so cute!!
Mrs Bourke: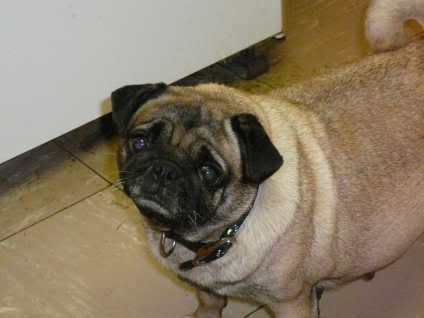 Don (on Right) and Mrs Bourke:
On the way home stopped in at Binnorie Dairy and tried some of their fresh cheeses, yummy.Bought a bottle of Labna which is a cheese made from yoghurt.
Anyway have to get ready for work. Ciao for now and hope you have a happy, and safe Easter with family and friends. Don't eat to much Chocolate!!!
Catch you later!